I've got something to share with you.  It's a blog where bloggers donate a blog post and $25 to the American Cancer Society, and commit to blog about baking some goodies to give to a local Chemo center or other place to help Cancer patients.  I was selected as one of the bloggers for this very noble cause and I feel honored to be a part.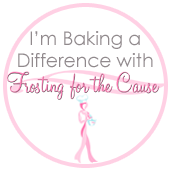 When I agreed to do this I had no idea how cancer would be personally affecting my life as I write this very post.
Please take the time to head over to Frosting for the Cause and read today's post.
This post is linked to Heavenly Homemaker for GratiTuesday and Frosting for the Cause.